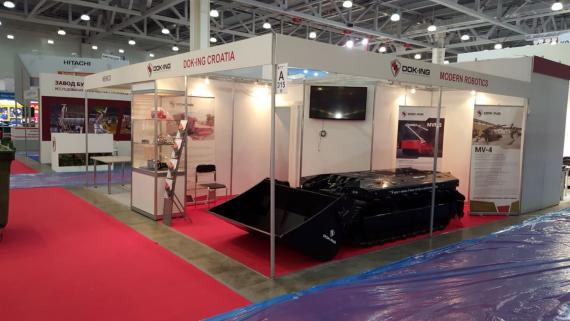 17 Apr 2018

The latest XLP showcased at Mining World Russia 2018

The 22nd International exhibition of machines and equipment for mining, processing and transportation of minerals, Mining World Russia 2018 has just been opened at Crocus Expo, Moscow. For the third consecutive year, DOK-ING has been taking an interest in the large mining market represented at the Mining World Russia. This year DOK-ING has showcased its most recent model of eXtra Low Profile Dozer, XLP – Tier 4.

More than 258 exhibitors from Russia, Australia, Austria, Belgium, Blarus, Canada, China, Finland, France, Germany, Great Britain, Iran, Italy, Japan, Kazakhstan, Norway, Spain, Turkey and USA will bring together few thousand visitors, mostly mining experts interested in machines and equipment for open mining, enrichment of minerals, moving and transportation of minerals, underground mining and exploration, in construction technology for mining, equipment for mine safety, etc.

The DOK-ING's advantage can be noticed in the fact that there are not many unmanned machines, either remotely controlled or robotized in any other way as DOK-ING's XLP. Although designed for a certain kind of underground mining, its size and strength give it a number of other applications as well – in open and closed pits, narrow reefs, under conveyer belts, or even in construction works.