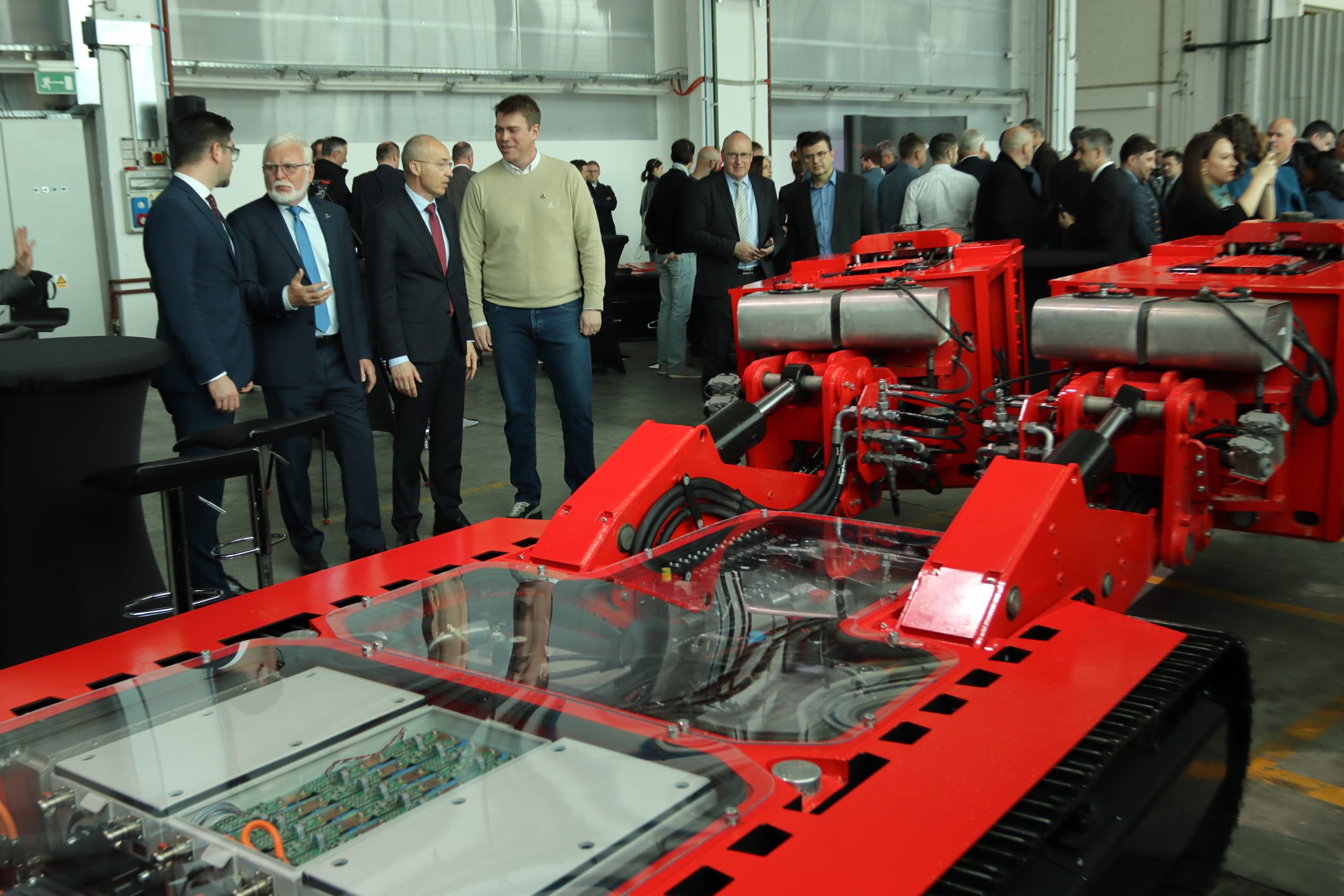 05 Apr 2022

DOK-ING Held the World Premiere of the Innovative Electric Robotic Fleet for Underground Mining
Technologically advanced robots, unique in the World, after the Zagreb presentation are to be delivered to the buyer for the exploitation of the Platinum group of metals in South Africa
Zagreb, April 4th, 2022. – DOK-ING, an engineering powerhouse of heavy-duty robotics & autonomous systems, held a World premiere of the innovative electric robotic fleet for underground mining. With these palettes of products, the company is pushing the boundaries in the underground mining industry. 100 distinguished guests, Politicians, Ambassadors, Ministries, Business partners & Journalist were thrilled to see in person these advanced Narrow Reef Equipment (NRE). DOK-ING is an innovative company and won around 100 awards for its innovations and this latest news from the company's engineers is the latest accomplishment. 
The most competitive – with only 65cm of height, NRE can enter the world's lowest mines
DOK-ING's team of experts led by owner Vjekoslav Majetić created, developed and produced this small by height (only 65 cm tall) and yet technologically turbo advanced, extremely powerful and productive unique electric robots that enter the world's lowest mines. NRE is very innovative, but also unique as it is the only robot in the world that allows mechanization of exploitation from ultra-low production panels. 
"In a short time, DOK-ING has become a global leader in the production of various terrestrial unmanned systems from a local company. He is a real example of a company that develops innovative solutions, both in the field of defence and security, and in civilian life, all with the aim of saving the most important thing – human lives, "said the distinguished emissary of the Prime Minister of the republic of Croatia Damir Krsticevic, special adviser to the Croatian Prime Minister.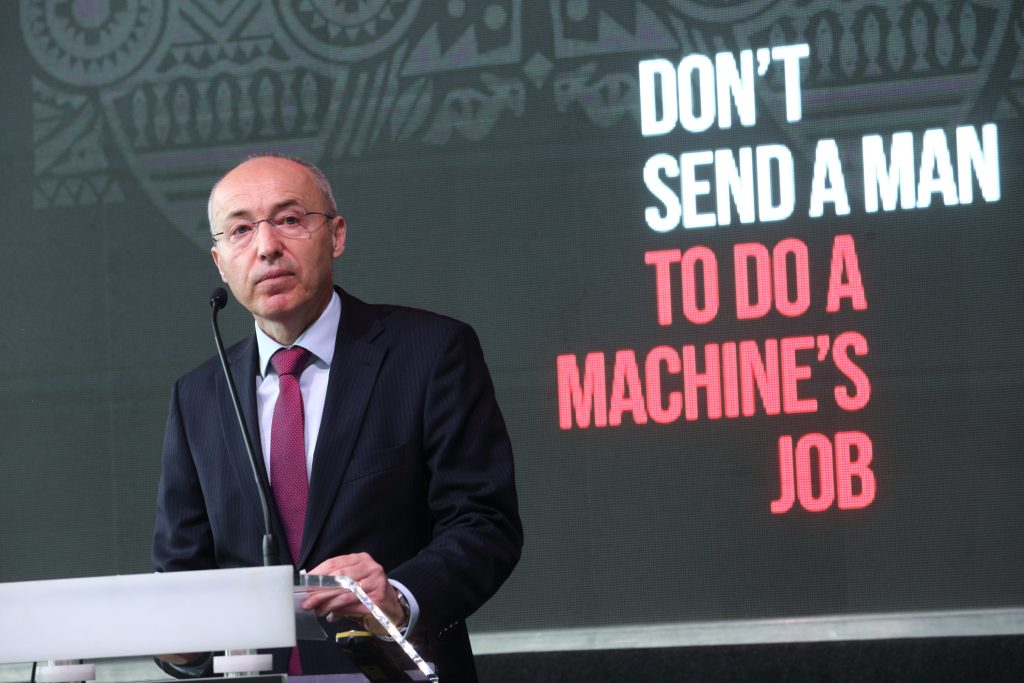 The most competitive robots in the world – the only ones that work at a slope of 22 ° in the mines
"The NRE fleet is competitive in the market with the fact that the tracked chassis and elector drive allows the fleet to operate on slopes up to 22° compared to conventional mining machines operating on slopes up to 10°. The possibility of working on higher slopes allows the exploitation of deposits that are inaccessible or unprofitable using conventional machines and significant savings due to greater flexibility in mine design."- said Luka Petro, Mining Program Manager and continued: "Electric drive eliminates noise and impact of exhaust gases spaces and reduces the carbon footprint of the overall exploitation process. Mechanization of the production process increases production efficiency and drastically reduces risks for workers and increases their safety."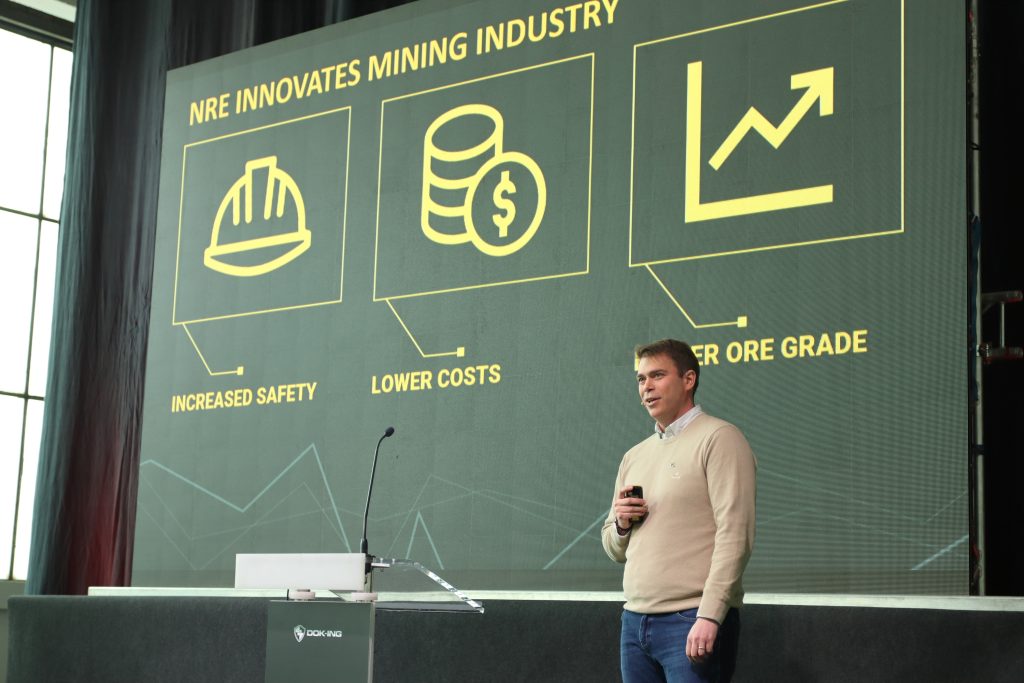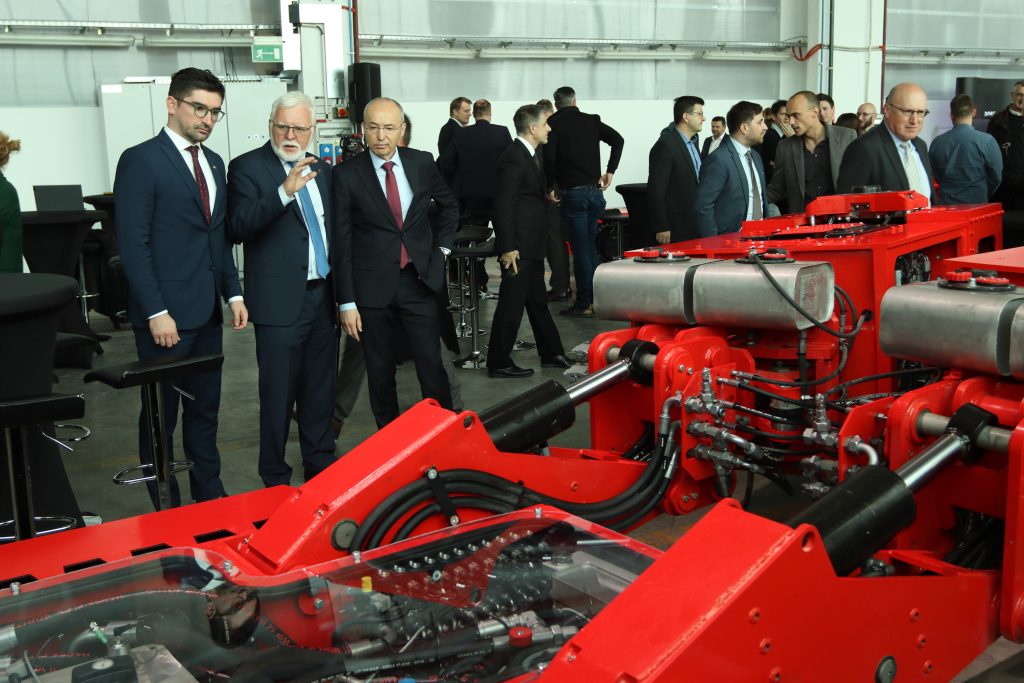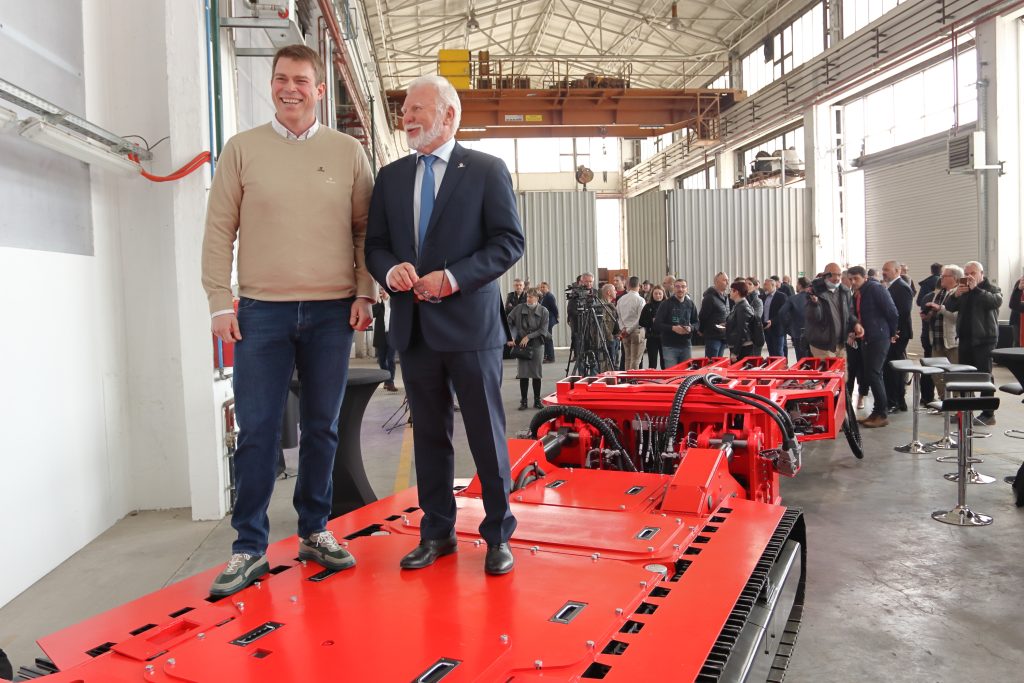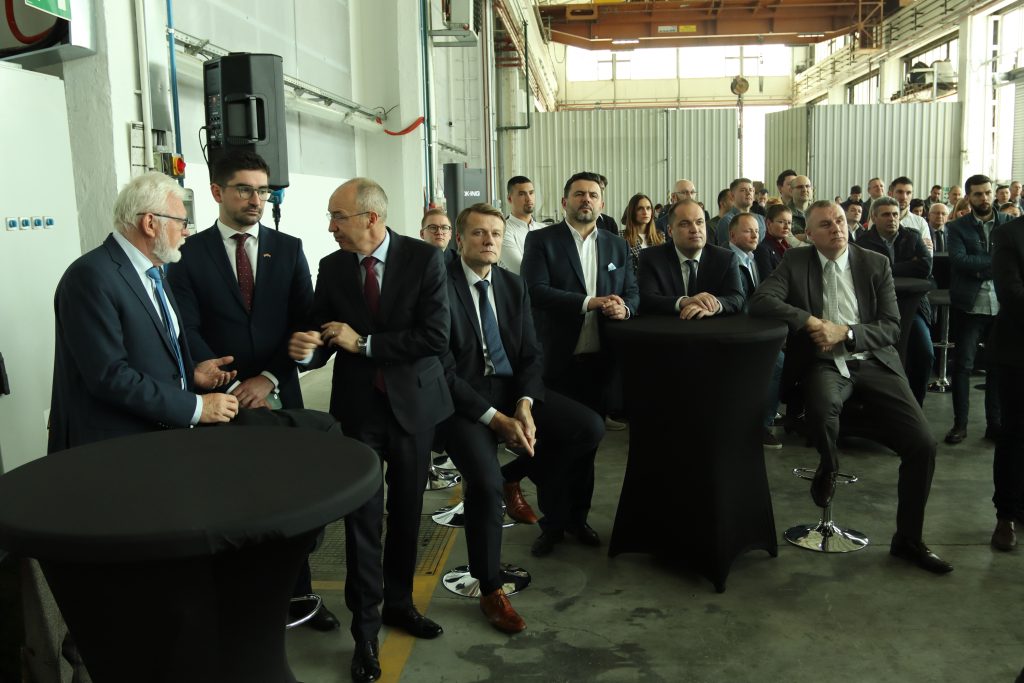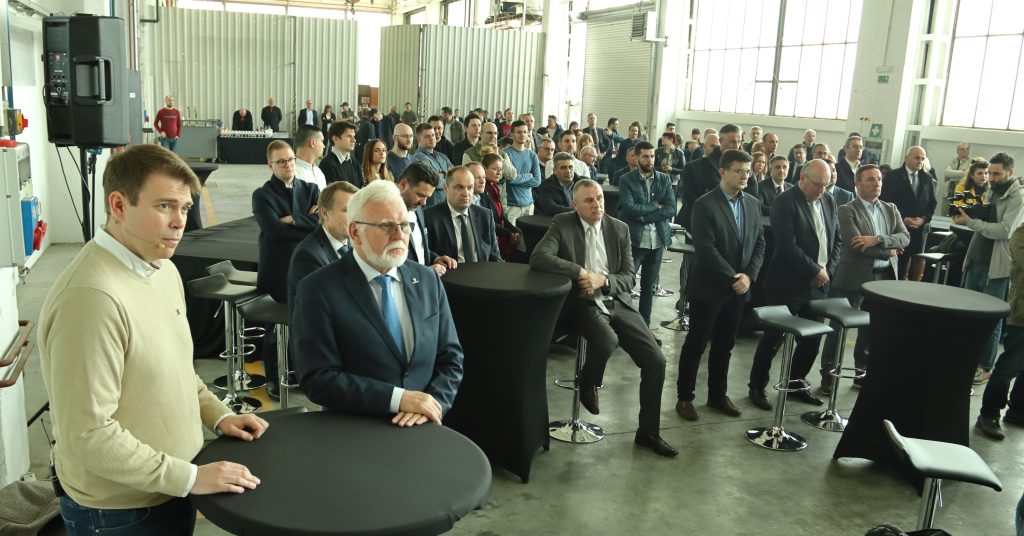 Remote-controlled robots
Like all DOK-ING robots, the NRE is remotely controlled, thus eliminating the presence of people in unsecured parts of the mine. Roof drilling and anchoring operations are fully automated and thus contribute to operator safety during operation. DOK-ING's NRE consists of 3 machines that together complete the drilling, cleaning and anchoring process.
Increased safety and improved working conditions in mines
It enables mechanised exploitation of ore raw materials in profiles with a height of 0.9 m to 1.7 m, which have not been technically possible so far or have not been commercially viable. It increases safety and improves working conditions for workers, increases productivity and ore concentration for mining companies and reduces capital investment and operating costs. By applying NRE and mechanizing production from Ultra-low profiles, mines can reduce their capital investment by up to 35% from operating costs lower by up to 30%. Which shortens the payback time from 11 years to 5 years. With the development and production of NRE, DOK-ING is expanding its product range and bringing innovation to the mining industry and pushing the boundaries of the efficiency of mining methods of mining.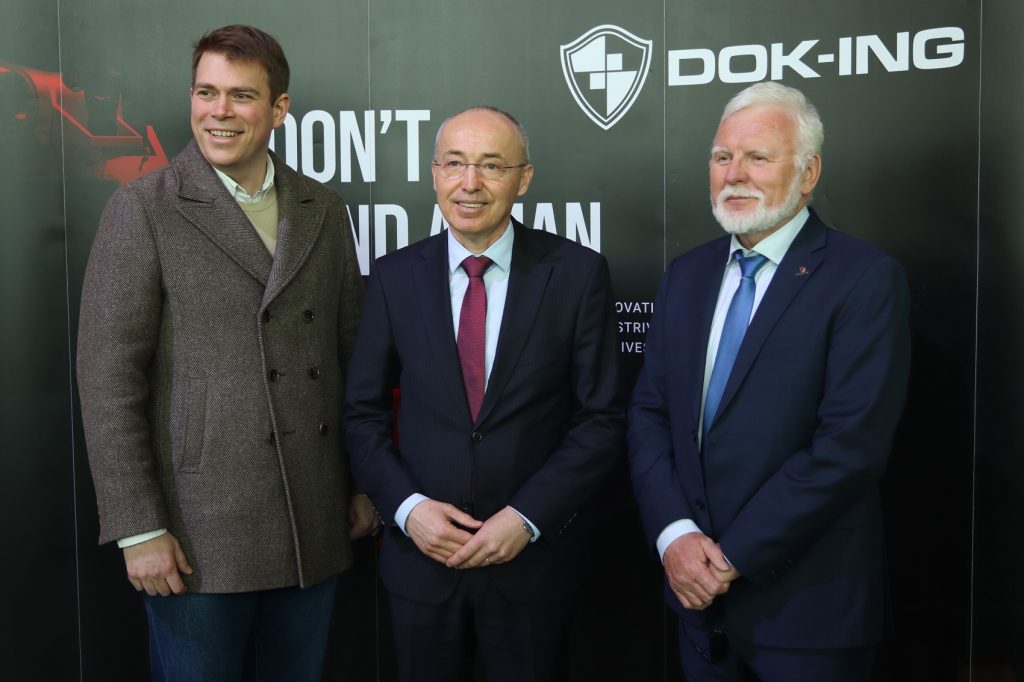 DOK-ING's robots in South Africa exploit platinum metals for the world's largest producer
DOK-ING has developed innovative robots for the mining industry at the request of a global leader in platinum exports, the Anglo American Group, which has a 100-year business tradition. The Group is the world's leading primary producer of Platinum Group Metals (PGM). High profile uses of PGMs include jewelry, autocatalytic converters, fuel cells, air and water purification units, heart pacemakers, computer screens, hard disks and fertilizers. In recent years the high value of PGMs has seen platinum become a prime investment commodity alongside gold. In recent years, due to the high value of PGM, platinum, along with gold, has become a primary investment commodity.
The price of the platinum metal group has reached historic levels
By reducing the height of the production panels, the concentration of mineral raw materials that are exploited increases. Among the main groups are platinum metals (iridium, osmium, palladium, platinum, rhodium and ruthenium) whose price has skyrocketed in the last year has reached historic levels due to the wide range of uses in various industries and medical devices and electronic devices.
ABOUT DOK-ING
DOK-ING is an engineering powerhouse of heavy-duty robotics & autonomous systems. The company is an international market leader and has more than 70% of the market share in more than 40 countries globally. In the previous period, the company has grown by more than 230%. The headquarter in the Croatian capital is spreading over almost 20,000 m2 and, besides the Zagreb office, DOK-ING is incorporated on the following continents: North America, Europe, Africa & Asia. In more than 30 years of being in the business, the company has been recognized for changing the industrial landscape with its innovative approach and won many international "doing business and industrial" awards in innovations and technologies. In a few words, by integrating its own innovations and new technologies, develops and manufactures robotic and autonomous systems to protect human lives & property in dull dirty and dangerous environments, known to responders, primarily in Military Engineering, CBRNE, Emergency Response & Underground Mining.