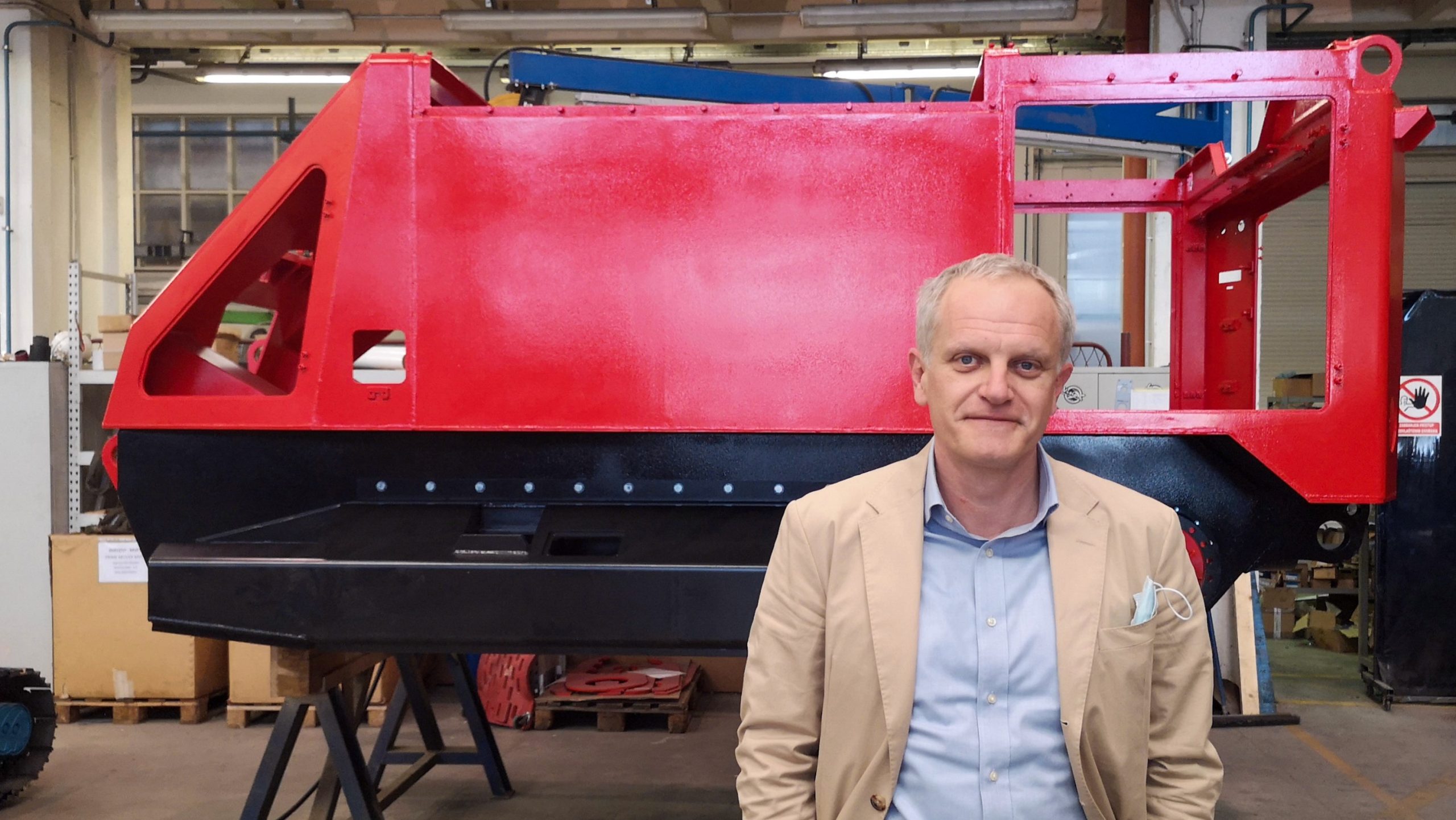 27 Apr 2021

#DOKINGforces: Domagoj Stunić, Head of Research and Development

Take a look at DOK-ING's R&D Department through the eyes of Domagoj Stunić, Head of Research and Development. After working in software development in multinational environment, Domagoj joined DOK-ING. He started at DOK-ING as Project Manager, then changed his position to Account Manager for the USA market in Business Development Department and then he became DOK-ING's Head of Research and Development.

Read on to get an insight into DOK-ING's Research and Development team.

. . .
Describe DOK-ING in three words.
Leader, innovation and robotics.
Who's the "perfect fit" candidate for DOK-ING's R&D team?
DOK-ING's R&D team thoroughly lives DOK-ING's values – do the right thing, openness, knowledge, innovation, network and group culture. Perfect fit candidate has a strong technical background in either electronics or mechanics, a deep interest for robotics and internal drive and a passionate desire to become a part of DOK-ING adventurous know-how forces. The ideal candidate also follows the latest tech trends in our industry and integrates them into our products, always keeping in mind our customers! There's always a place for someone with significant experience as well as for someone who wants to build their experience with us, in our teams and projects. Key trait we're looking for is the teamwork spirit, it includes collaboration with colleagues, willingness to help and understand others, openness to new people, new ideas and other cultures since we operate worldwide.
Your previous experience comes from working in software development environment in multinational companies, these days you lead the development of robots in a domestic company that operates globally. What are the main similarities and differences in these jobs in your career?
The most important difference between software development and robotics development is the physical manifestation of what we do. It's always exciting to see our machines when they are built after all the previous steps and the hard work invested to make it happen. There is no such cycle in software development.
On the other hand, the jobs have many similarities, which was surprising to me personally, when I came to DOK-ING. The truth is that the process of development is very similar in its own nature. As different as the end-result may be, each development starts from a good definition of requirements, then progress is controlled through process phases and thus the process is optimized and made predictable. In both jobs, it is extremely important to lead the process, understand and respect all the stakeholders.
Finally, the link between software and robot development is also visible in the field of artificial intelligence and autonomy, connecting the physical world – robots and software – AI and autonomy. Artificial intelligence and autonomy are now used globally in industries and so it's important for DOK-ING to also participate in this trend. We'll put a lot of focus on autonomy in the future, which makes me extremely happy both on a personal and engineering, i.e. business level.
What's your favorite memory since working at DOK-ING?
There was one big contract for one of our biggest customers. Namely, the problem appeared on the delivered machines just before the rollout. The customer immediately contacted us and tried to indicate what kind of problem there was. Despite the lack of and contradictory information, we quickly realized the cause of the issue, but we did not find a potential solution and we wanted to investigate the situation on the spot. My colleagues and I showed up at the customer location, on the other side of the world, at 6 am the next morning to analyze what it was all about and to try to find a fix. We realized that the problem was nearly impossible to solve. However, we, just the way we are here at DOK-ING, four weeks later returned to the customer with six prototype devices that allowed our customers to continue their planned activities. I like to call that moment victory of the brain because it perfectly describes the spirit of DOK-ING – innovation, perseverance and attitude – the customer is king.
What are the main advantages of working in DOK-ING's R&D team that no other employer offers on the market?
Working on innovative products that are unique on the world market, having great freedom and creativity possibilities, opportunity to work with like-minded people, pleasurable working atmosphere, focus on the education and most importantly, the satisfaction you get when you visually see the idea all the way to an actual product and verification in the real world. DOK-ING's R&D team is the team that ensures the present and creates the future value of the company.
Who shouldn't join DOK-ING's R&D team, given the further development and the expansion of the team?
DOK-ING is definitely not for the unimaginative, eager for predictable and repetitive work, from 8 am to 4 pm, no matter how highly sophisticated the job is.
How does the symbiosis of electrical and mechanical engineers work in the R&D team?
By approaching project tasks looking at things from the perspective of our customers and focusing on customers' needs. Teams are always multidisciplinary, meaning they consist of electrical and mechanical engineers who work together, with knowledge and skills from their domains to achieve joint work and optimal solutions, while always focusing on the customer.
If you could be a famous person for a day, who would you be?
Steve Jobs. Because of an innovational mindset, a great mix of business and tech, focus on the best devices that exist in the world and even inventing machines that the world did not even know they needed before. The technical excellence of the devices and products of the company he created is fascinating, even their successful promotion, so it would be great to see how the brain of such a man works, for a day.
Three must-have items when trapped on a deserted island?
1. iPad
2. Grill
3. Hammock (so I can be comfortable while reading iPad)
But there's no Internet on a deserted island?
I've downloaded everything before.
Okay, but there's no electric power?
My iPad comes with a solar charger! Plus if there's more space in my deserted island bag I'd bring some good booze!