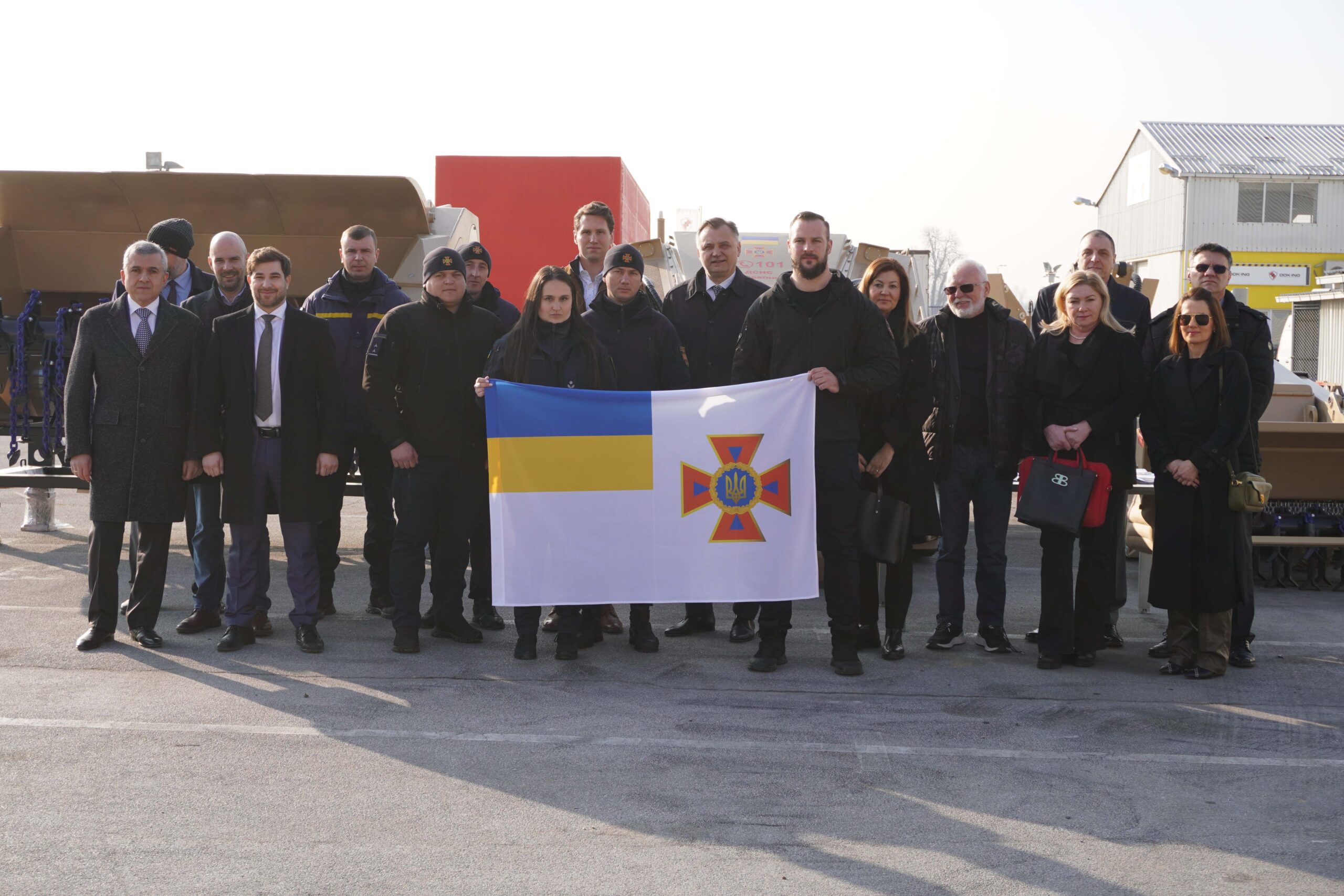 17 Feb 2023

Donation of DOK-ING Robotic Systems for Deming to Ukraine 

Zagreb, 16.02.2023. – In the premises of the Croatian company DOK-ING, a pioneer in robotic systems in the demining field, on Wednesday, February 15, 2023, a ceremonial handover took place of two of a total of eight robotic systems for humanitarian demining to Ukraine. The handover donated by the American donor was performed by the President of the DOK-ING Management Board, Mr Marijo Grgurinović, towards the representatives of SESU (Ukraine).

This event is closely related to all activities undertaken by the Government of the Republic of Croatia, as well as the system of industrial capabilities in mine action. In addition to the participation of DOK-ING as the host of the ceremony, high representatives of the Directorate of Civil Protection, Center for Testing, Development and Training (CTRO) and representatives of The State Emergency Service of Ukraine (SESU) also participated in the handover.

And through this handover, there is a growing need for targeted aid when it comes to humanitarian demining and, with this in mind, by pooling national resources and offering a comprehensive solution for mine action, the Republic of Croatia can further expand its partnerships.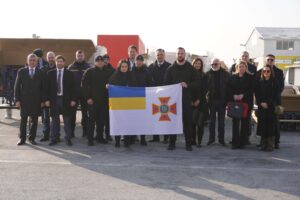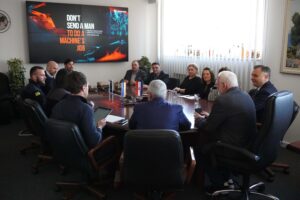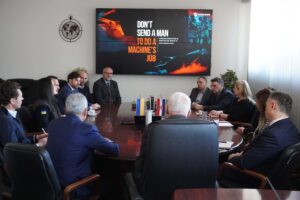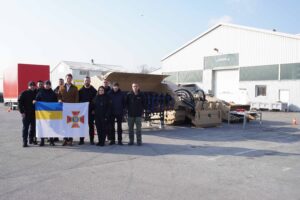 By coming to this important event, the Republic of Croatia, at the head of its industry, has already started to give the first results in enhancing Ukrainian end users' ability with the aim of solving this significant problem that Ukraine has yet to face.
We deeply believe that this is just the beginning of the relationship between Croatia and Ukraine in the field of mine action and that this ecosystem, which includes expertise, experience, but also innovation in approach and products, can be a reliable partner for Ukraine in its activities, led by the Republic of Croatia.
Neven Karas, coordinator for civil protection affairs of the Directorate of Civil Protection, on this occasion stated:
"Our Government, led by the Prime Minister, Mr Plenković, as well as the Minister of Internal Affairs, Mr Božinović, have strongly supported Ukraine and the Ukrainian people from the beginning. As Prime Minister Mr Plenković points out on every occasion, Croatia unfortunately had a similar experience to Ukraine, but thanks to that we have gained rich experience in mine action. As President Plenković pointed out at the last meeting with President Zelenski, an agreement on cooperation in the field of mine action between Ukraine and Croatia will be concluded, and one of the most important segments of this cooperation and assistance is precisely the delivery of our equipment and machines for humanitarian action. We have repeatedly emphasized that we have rich experience, we have the knowledge and we have resources. What makes me satisfied is that our friends from Ukraine also recognized the quality of robotic systems for humanitarian demining produced by DOK-ING, and on this occasion, I would like to thank the company DOK-ING and the representative of the American donor who recognized this and we believe that it is one of the most concrete and fastest ways in which help can be provided in this humanitarian work. I would also like to take this opportunity to thank the company DOK-ING, which had and still has a big role in demining the territory of the Republic of Croatia, and as we can see, it will have, I believe, a significant role in demining Ukraine."

Dunja Sičaja from the Ministry of Foreign and European Affairs of the Republic of Croatia stated:
"I am glad that we were invited by DOK-ING to this handover and that DOK-ING is recognized for its expertise all over the world and in the USA. It is precisely this experience in demining that we point out in all political meetings as a great comparative advantage of Croatia. We are sorry that the Russian aggression against Ukraine happened and that we all found ourselves in a tragic situation, but we can still offer help in several segments: diplomacy, finance and demining. Croatia will host the conference in October, and we wish you success in all our future activities and cooperation."
 Marijo Grgurinović, president of the DOK-ING Management Board, said:
"I thank everyone for coming here today and we are glad for the trust that we are, once again, recognized as the world leader in demining robots where we hold 80% of the world market. DOK-ING has sold its machines in about 40 countries around the world and while we have world fame and attention, we are glad when you visit us at our Zagreb Žitnjak, where the very development and production of our robots takes place, where you can essentially see and feel the grain the beating heart of our innovation laboratory, which is backed by top engineering experts."

 Alina Kozlova, a representative of SESU Ukraine said:
In these dark and difficult times when we don't even have electricity, we can really see who our true friends are and we thank DOK-ING for this opportunity. These robotic machines really save lives thanks to the remote control system and many multi-functionalities so that we don't have to use our own bare hands in dangerous areas.
***
DOK-ING is an engineering leader in the development and production of robotic and autonomous systems and equipment for special purposes. DOK-ING has proven itself as a leader in the international market with more than 80% market share of the world market of humanitarian demining machines. It does business with clients in more than 40 countries around the world. DOK-ING deals with the integration of its own innovations and new technologies to develop and produces robotic and autonomous systems for the protection of human life and property in dangerous environments, primarily for military engineering, NKBR (nuclear chemical biological and radiological), crisis situations, counter-terrorism and underground mining. In more than 30 years of business, the company has been recognized for changing the industrial landscape with an innovative approach and has won more than a hundred international awards in the fields of business, innovation, and technology.