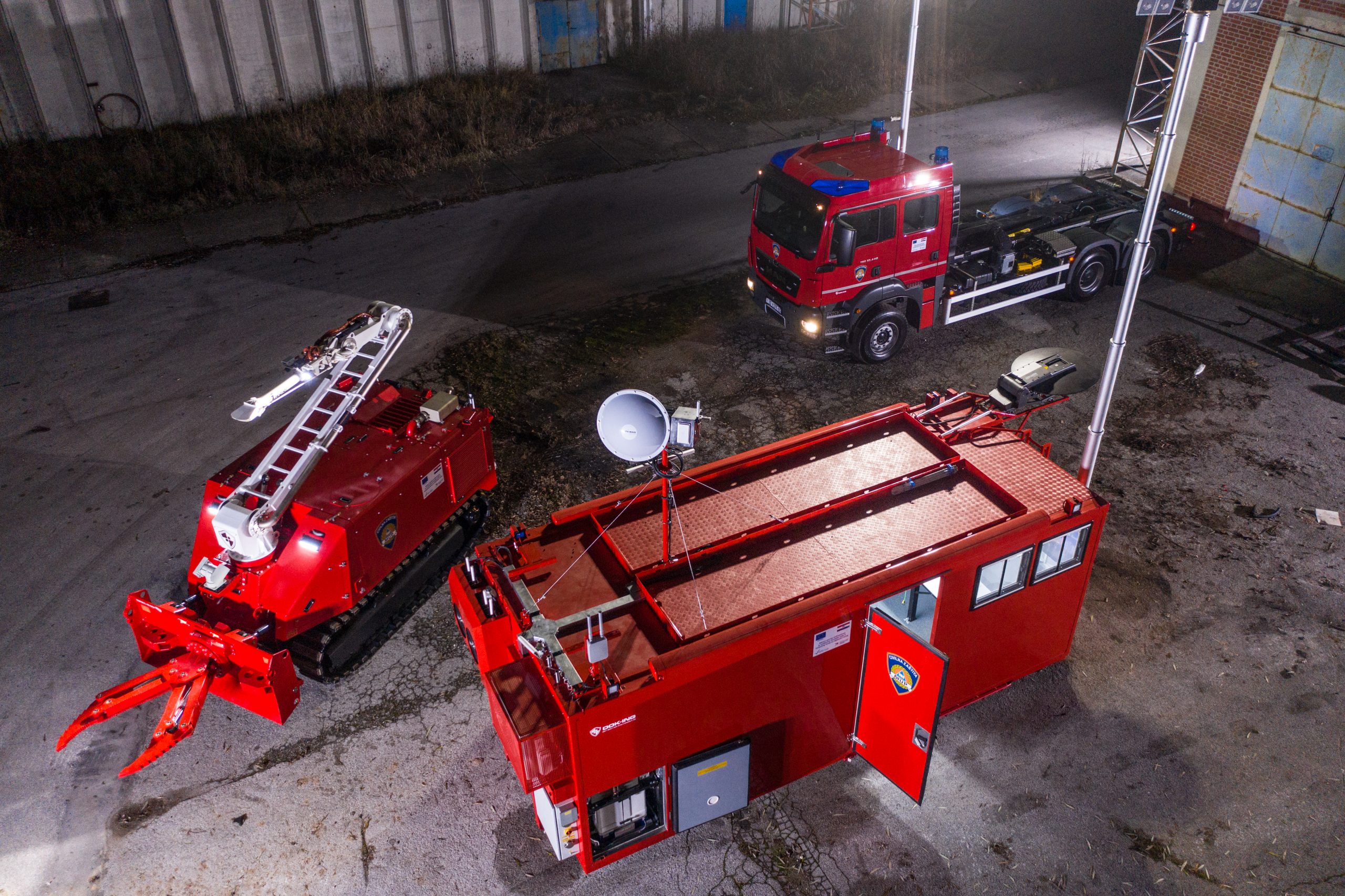 14 Apr 2021

Second delivery of the Command and Communication Center with Emergency Response Robotic System to the Croatian Ministry of the Interior

During the last week, DOK-ING's Command and Communication Center with Emergency Response Robotic System was delivered to the Croatian Ministry of the Interior. The delivered system is the second out of 3 systems purchased by the Ministry and it will be used by State Civil Protection Intervention Unit Osijek.

DOK-ING's Command and Communication Center with Emergency Response Robotic System is the first such system in the world. It is designed and produced for emergency interventions in situations where intervention units' access is limited or even disabled due to extreme environmental conditions such as high temperatures, explosions, and facility collapse. Using current technology, interventions of operational forces have been limited in time and space waiting for environmental conditions of acceptable risk to be created. With the new DOK-ING technology, based on a remotely controlled multifunctional robotic system, intervention can begin upon arrival, which drastically reduces the intensity and extent of the accident, as well as the number of casualties and the magnitude of the damage.

The delivered system consists of a command and control vehicle with the MVF-5 robotic system on the trailer. Some of the main technical characteristics of the system are the following:
Command and control vehicle includes control center for multifunctional robotic system, integrated into the extended cabin of the truck, and command center in form of 20" container detachable from the truck;
Diversity in a power system – robustness in power supply for C&C is enshrouded by the possibility to use electrical power from two external sources, built in diesel generator or built in battery system;
Diversity in a communication system – possibilities of using up to 4 GSM lines (bounding capacity up to 400Mbps), Access Point, and satellite internet (enshrouded by integrating stabilized, auto-acquire, drive-away antenna System). The system is prepared for the integration of equipment specific for the end-user;
Command and communication center is divided into two areas, coordination area for 6 persons and working area for 4 persons;
The entire system is equipped with a power supply system for electronic devices, USB chargers, and communication systems according to customer requirements;
The area around the command and control center can be illuminated with a fixed lighting system. Additionally, on a pneumatic telescopic pole there is a system of control and lighting of operational areas of activity;
It is equipped with an advanced antenna system for the directional tracking of drones.