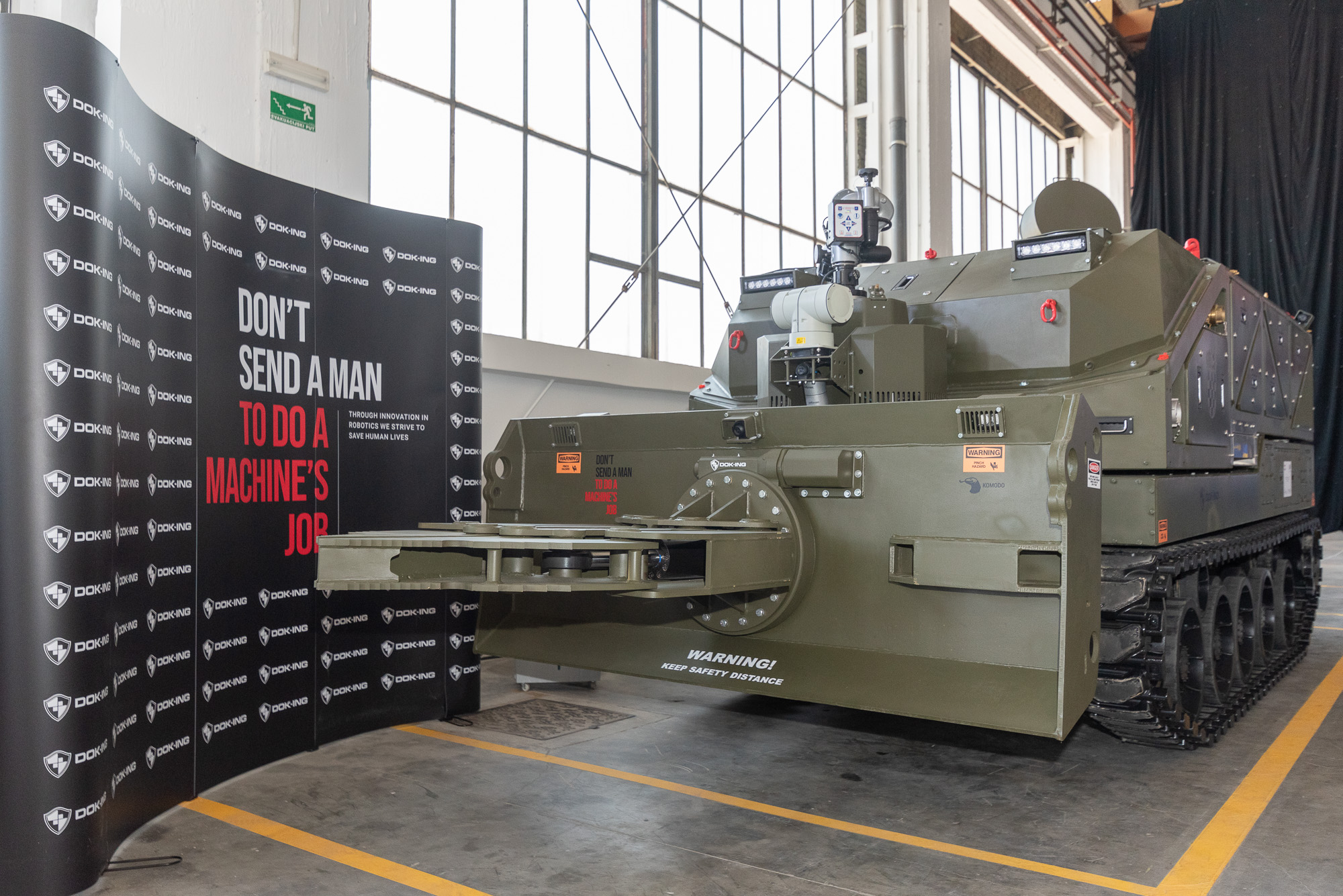 30 Jun 2021

The official launch of Komodo, DOK-ING's new innovative robotic system for extreme conditions
DOK-ING's robotic system is ranked among the top 20 innovations in the field of security and defense industry by the European Commission
After more than three years of development, yesterday DOK-ING presented Komodo, an innovative remote-controlled robotic system for operations in extreme nuclear, biological and chemical (NBC) conditions at its headquarters in Zagreb. It is a unique machine that can operate in conditions of an open fire, explosion, collapse, high concentrations of explosive and toxic substances, as well as in terrorist threats.
"Our innovative robotic system operates in extreme environmental conditions where man is limited in action or unable to survive. The machine is remotely controlled and has elements of artificial intelligence, its exceptional performance makes it a unique innovation in the world", said Vjekoslav Majetić, Founder and Owner of DOK-ING, a company that has successfully developed 15 innovative and commercially accepted robotic systems in the last 30 years.
This robotic system from the field of NBC (nuclear, biological and chemical defense) is one of the most important innovative security-defense projects in the Republic of Croatia. The European Commission ranked it among the top 20 out of 972 analyzed projects in the field of security and defense industry. The Croatian robotic system thus found itself alongside the innovations of the strongest countries in Europe, such as Finland, Germany and France.
"With this robotic system, we have recognized the opportunity to diversify our product portfolio, which also brands Croatia through innovations in the field of security and defense. Classification in the exceptional 2% of projects at the European level confirms that DOK-ING is an international leader in dual-use products that encourages the exchange of ideas between civilian and defense stakeholders of member states", said Gordan Pešić, DOK-ING's Business Development Manager.
The value of this project, which is in collaboration with the Faculty of Electrical Engineering and Computing, University of Zagreb, fully developed in DOK-ING, is 2,5 million €, of which 50 percent were co-financed through the European structural and investment funds. The vehicle weighs 17 tons and has a hybrid drive. Due to the batteries, it can operate in environmental conditions where internal combustion engines cannot work, for example where there are low oxygen levels or high temperatures.
As part of yesterday's formal presentation, which was attended by the Croatian Defence Minister Mario Banožić, State Secretary of the Ministry of Regional Development and European Union Funds Šime Erlić, Chief of the General Staff of the Armed Forces of the Republic of Croatia Admiral Robert Hranj and other senior officials, a panel discussion "Opportunities for the Croatian defense industry in the coming financial period of the European Union" was held. The conclusion is that such projects show great potential for the upcoming programming period from 2021 to 2027 and present an opportunity for Croatia's positioning in the security and defense industry.