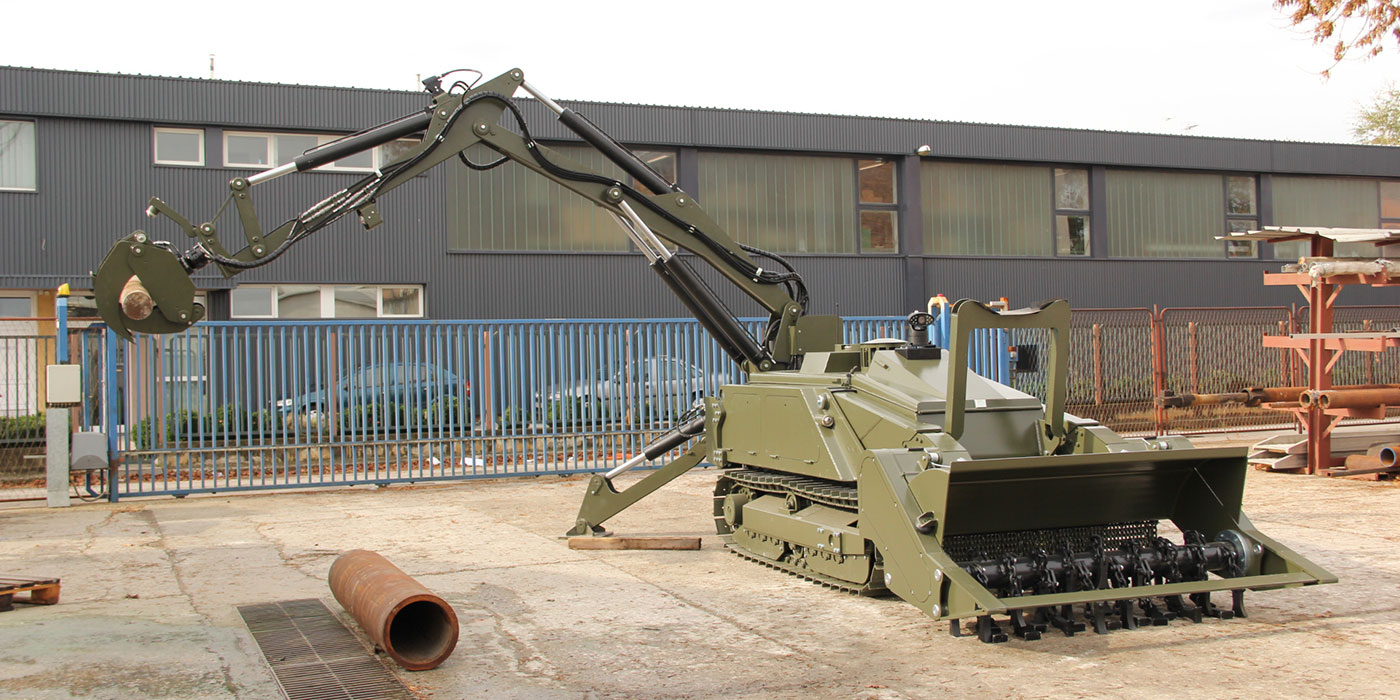 10 Jul 2020

MV-4 with EOD Robotic Arm

Initially, the Swedish Defense Materiel Administration (FMV), on behalf of the Swedish Defense Forces (FM), procured 1 (one) DOK-ING MV-4 demining mini-flail during May 2002, which was successfully tested and evaluated at SWEDEC during the same year. It resulted in MV-4 numerous improvements and later in 2003 FMV procured further 4 (four) more MV-4 mini-flails, making a total number of 5 (five) systems in their possession. The main MV-4 mission at that time was to ensure Swedish active participation in the humanitarian demining operations within the scope of operation of the SCANDIC Brigade worldwide.

After 9/11 a previous standard mine threat has significantly evolved into a more complicated and highly lethal IED-oriented tactics imposed by different terrorist and radical paramilitary groups targeting both military, international and humanitarian organizations. Because the older MV-4 did not meet new threats in adequate way FMV replaced them in 2011 by the latest 4 (four) MV-4B Robotic Systems, with extra procured 1 (one) Segmented Roller, 1 (one) Rotational Gripper and 1 (one) Video Camera System for test and evaluation with the latest MV-4B version. The new expanded mission of the MV-4B Robotic Systems was directed toward Route Clearance.  

To improve the existing capabilities, the new contract for MV-4B upgrade was signed by FMV and DOK-ING in October 2017, which was successfully completed early June 2018. As the logical contract outcome the Swedish Royal Engineers received:
4 (four) fully upgraded MV-4C Multi-Mission EOD Robotic Systems each with Flail tool, Segmented Roller tool and Rotational Gripper tool;
All MV-4C Prime Movers were constructed for future integration of DOK-ING EOD Robotic Arm to handle large UXOs or other dangerous objects with up to 400 kg of weight;
All new and previously produced front tools were re-designed having tools' quick connectors, making their replacement by one person in the field fast, safe and highly effective;
The upgrade also included the DOK-ING's latest highly reliable communication data protocol for the MV-4C and PiP (picture-in-picture) video mode ensuring high quality observation 360°;
In addition, both front & rear powerful LED headlights were integrated onto the MV-4C platforms to facilitate safe and easy operating of the systems in the dark or other limited visibility environment;
Newly designed metal racks for each front tool were supplied to ensure safe handling, storage and easy transportation of tools;
All technical documentation was upgraded;
A comprehensive training course was provided by DOK-ING instructors during May-June 2018 at SWEDEC test facilities for the designated Swedish military personnel, including operators, mechanics, electricians and storage personnel;
Furthermore, 1 (one) MV-4 EOD Robotic Arm was rented by DOK-ING for training and its consequent test & evaluation by SWEDEC, which resulted in a positive test report in June 2019.  DOK-ING intends to supply 4 (four) EOD Robotic Arms to Sweden in a foreseeable future.