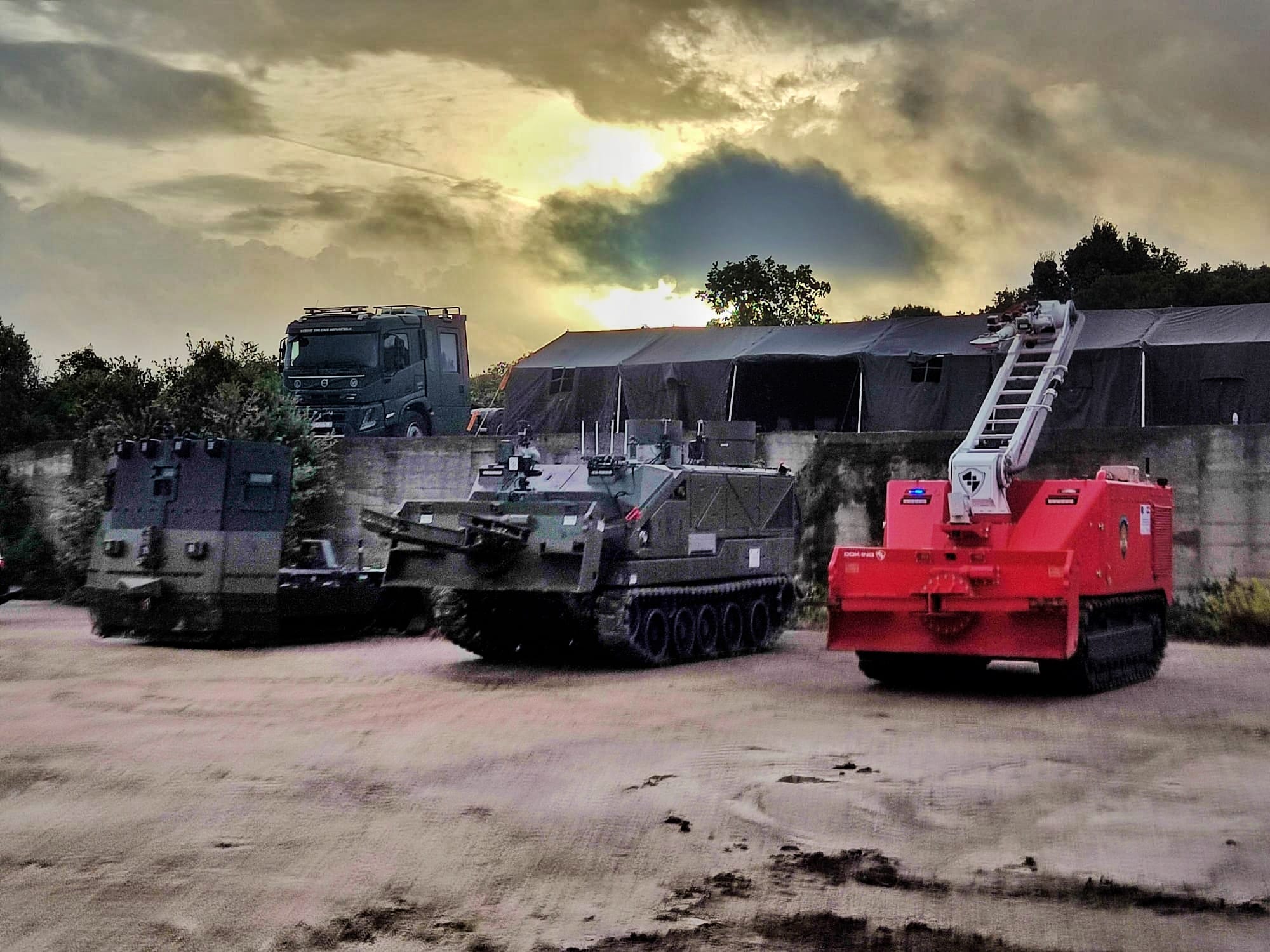 27 Oct 2023

DOK-ING Robotic Systems Demonstrated Its Capabilities at the CBRNe Science and Consequence Management World Congress in Cavtat
DOK-ING SHOWCASED ITS EXPERTISE IN UGV CBRNe AS A NEW TECHNOLOGY TO PROTECT CRITICAL INFRASTRUCTURE AGAINST CBRNe THREATS
Cavtat, Croatia, October 26th – DOK-ING robotic systems demonstrated their capabilities at the CBRNe Science and Consequence Management World Congress held in Cavtat from 22-27 October. The primary goal of this Congress was to provide a global community service by improving Chemical, Biological, Radiological and Nuclear (CBRN) science awareness; to share scientific information; to educate and encourage members of the global scientific community to observe global norms of non-proliferation.  Participants from many different countries joined this Congress, such as the USA, Czech Republic, Hungary, Georgia, The Netherlands, San Marino, Canada, Belgia, Poland, France, Sweden, Italy, Switzerland, Spain, UK, Cameroon, Austria, Germany, Iran, Iraque, Kenia, Turkey, India, Slovenia, China, Croatia, North Macedonia, Montenegro, Albania, Estonia, Serbia, Romania, Bulgaria and Greece.
During the Congress, technical nuclear nonproliferation experts from the U.S. hosted a three-day training event. Through the classroom and field exercises, the event enhanced the knowledge and the skills of participants to effectively identify, assess and mitigate radiological contamination risks while protecting the public and environment. The training was supported by a team of U.S. experts and Croatian partners.
It was followed by the demonstrations of DOK-ING's robotic systems, together with the companies that were participating in Congress activities and displaying equipment. During these exercises, new technologies were presented: Robotics, Unmanned Ground Systems (UGV), Unmanned Aerial Vehicle (UAV), sensor and mapping technology, detectors, sampling, analyzers, new building materials for critical infrastructure, communications equipment that provided redundancies, and decontamination (both dry and wet methods). The exercise was multi-dimensional with the use of radiological dispersion devices (RDD), and chemical and biological agents. The scenario included multiple Weapons of Mass Destruction (WMD weapon) threats to demonstrate the ability to detect, identify and mitigate such threats. This exercise was intended to show how the efforts of academia, scientists, engineers, and industry have been instrumental in the development of the technology that was demonstrated during this event.
DOK-ING demonstrated the capabilities of its few robotic systems:
Nikša Cigoj, Sales Manager at DOK-ING stated: "The congress exercises demonstrated the advantages of UGV and UAV systems in CBRNe defence, as well as other modern technologies that enable CBRNe and TIM detection, sampling, data collection, and processing, C-IED/EOD tasks, the fight against terrorism, and more. With these demonstrations held in Prevlaka (Cavtat), we demonstrated the robotic capabilities of our systems, and they are a great example of how new technologies are of exceptional help to human performance in such crisis and dangerous situations, which were shown as part of the exercise.  Industry professionals from the USA, Germany, France, Italy, and UK have shown interest in DOK-ING's portfolio of robotic systems."
MORE ABOUT DOK-ING's ROBOTIC SYSTEMS THAT WERE INCLUDED IN THE DEMO:
MVC-8 Komodo (Next-gen CBRN Defense Unmanned Ground System)
The MVC-8 is a unique remote-controlled unmanned ground system that can operate in extreme chemical, biological, radiological and nuclear (CBRN) conditions. As a dual-use asset, the UGS is designed to operate in extreme conditions hazardous to intervention teams with the following key capabilities:
Hybrid propulsion system able to operate in extreme conditions such as CBR-contaminated zone, low oxygen and high temperature.
Tasks of survey, reconnaissance, patrol, CBR detection and surveillance with a wide variety of sensors and detectors and advanced video systems.
Real-time data collection, processing and analysis with the aim of situational awareness for the needs of commands and operational units.
Chemical, Biological, and Radiological (CBR) decontamination and toxic industrial materials (TIM) neutralisation of vertical and horizontal objects, combat and non-combat equipment, as well as partial self-decontamination.
Firefighting, demolition and neutralisation of toxic chemicals, self-cooling at high temperatures by fire and sprinkler system.
Sampling of gases, vapours, dust, aerosols, liquids and solids.
Overcoming and removing obstacles with different types of front and rear interchangeable tools.
The MV-3 Hystrix is a multi-mission remote-controlled robotic system for support in Counter-Terrorism, hostage release operations and social unrest crisis missions. Counter-Terrorism interventions pose significant threats to tactical teams due to limitations of personal ballistic protection. The MV-3 gives the advantage of using the system with or without the tactical team, allowing flexibility and a modular approach without putting tactical members in danger.
The MVF-5 is a multi-mission, heavy-duty, remote-controlled robotic system for emergency response. It serves first responders to execute tasks in the harshest, most demanding and life-threatening conditions. The primary objective of the MVF-5 is fire extinguishing in extreme conditions, in inaccessible areas of high risk, and clearing roadblocks and debris without a direct threat to operators.
ABOUT THE CONGRESS:
In total over the years, congresses have included the participation of nearly 2,000 high-ranking scientists from the fields of medicine, toxicology, biochemistry, physics, and biotechnology, as well as defence personnel, emergency response professionals, and government officials from some 50 countries. All participants are concerned with limiting the spread of knowledge concerning weapons of mass destruction while sharing information on approaches to identify, thwart, and respond to possible mass casualty events involving CBRN materials. Congress topics have included: approaches, methodologies, and systems of detection and identification of CBRN substances, personal and collective protection, decontamination, evaluation of possible consequences, and medical treatment in the event of a CBRNe threat or occurrence. The CBRNe Science and Consequence Management Education Foundation is the CSCM Congress' organising entity. They are headquartered in the U.S. The 2023 CSCM World Congress was held under the auspices of the Government of the Republic of Croatia and this year participated in the RACVIAC Center for Security Cooperation throughout the organisation of the Congress as well as many other international and national organisations.
ABOUT DOK-ING
DOK-ING is an engineering powerhouse of heavy-duty robotics & autonomous systems. The company is an international market leader and has more than 80% of the market share in more than 40 countries globally. The headquarter is in the Croatian capital Zagreb, and, besides the European office, DOK-ING is incorporated on the following continents: North America, Africa & Asia. In more than 30 years of being in the business, the company has been recognised for changing the industrial landscape with its innovative approach. It has won many international "doing business and industrial" awards in innovations and technologies.
By integrating its own innovations and new technologies, DOK-ING develops and manufactures robotic and autonomous systems to protect human lives & property in dull, dirty and dangerous environments, known to responders, primarily in Military Engineering, CBRNe, Counter-Terrorism, Emergency Response & Underground Mining.