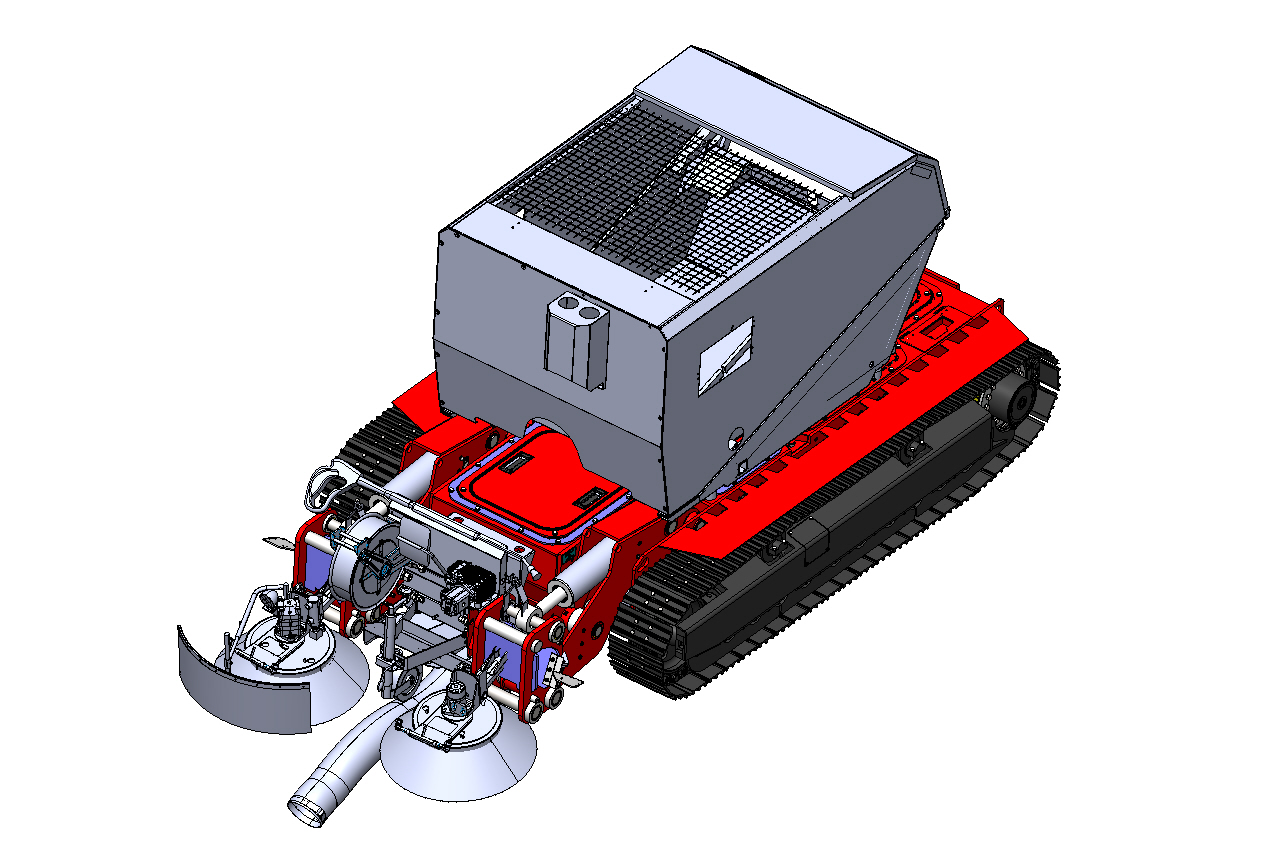 14 Nov 2023

UGV-M3VAC Unmanned System For Wet and Dry CBRNe Decontamination With Vacuum Suction

Zagreb, Croatia, November 14th -DOK-ING, an engineering powerhouse of heavy-duty robotics & autonomous systems, the leader in integrating its own innovations and new technologies, is in the development phase of a robotic system for decontamination. DOK-ING's UGV-M3VAC unmanned system for CBRN defense is based on the vacuum suction of decontaminants from solid surfaces. This innovative unmanned system enables intervention unit members to perform decontamination without exposing people to life-threatening contamination and radioactive radiation.

During the chemical and biological decontamination of infrastructure facilities, material resources and equipment, decontaminants contain chemicals dangerous for flora and fauna in the environment. In addition, decontaminants come into contact with toxic chemicals and break them down into harmless or less dangerous chemical compounds that can also have a very harmful effect on the environment. In radiological decontamination, surfactants and detergents bind radioactive elements and contaminated dust and aerosols, but they still emit dangerous ionizing radiation. EU regulation mandates that during any intervention in the environment, the rules and regulations on its protection against the harmful effects of chemical substances must be respected. As DOK-ING's mission is to protect human lives & property in dull, dirty & dangerous environments, the company developed this unmanned system for CBRN defense.

For the above reasons, after the Chemical, Biological, and Radiological decontamination, UGV-M3VAC  sucks up those decontamination emulsions which remain on the ground. The unmanned system uses vacuum suction and stores the chemical compounds in its container. After the container is full, the dangerous substances are disposed of in containers for permanent disposal of dangerous substances.

In addition to wet vacuuming, the UGV-M3VAC also has a dry decontamination tool that is used to vacuum radioactive dust from dry surfaces. It has been shown that radiological decontamination is much more efficient if it is a dry surface and dry dust, because the forces of attraction for the substrate are smaller than in the case of wet surfaces, and the dust does not penetrate deep into the soil as in the case when the liquid draws the dust into the soil and cracks.

The unmanned system UGV-M3VAC consists:
a base vehicle – a platform, on which there is a vacuum cleaner that has been proven in practice, but adapted for this purpose

with two tools for:

dry decontamination
wet decontamination

a container in which the vacuumed mixture of contaminants and decontaminants are being stored.
ABOUT DOK-ING
DOK-ING is an engineering powerhouse of heavy-duty robotics & autonomous systems. The company is an international market leader and has more than 80% of the market share in more than 40 countries globally. The headquarter is in the Croatian capital Zagreb, and, besides the European office, DOK-ING is incorporated on the following continents: North America, Africa & Asia. In more than 30 years of being in the business, the company has been recognised for changing the industrial landscape with its innovative approach. It has won many international "doing business and industrial" awards in innovations and technologies.
By integrating its own innovations and new technologies, DOK-ING develops and manufactures robotic and autonomous systems to protect human lives & property in dull, dirty and dangerous environments, known to responders, primarily in Military Engineering, CBRNe, Counter-Terrorism, Emergency Response & Underground Mining.